The Jokerr's "Snake& Sword" Poster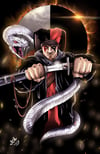 This 11" X 17" Poster on 100# Gloss is an original, hand-drawn likeness of The Jokerr by Juan Heinrich. The image depicts The Jokerr's warrior side battling "evil" as represented by the snake.
NO PAYPAL - NO PROBLEM! At checkout just select "PAY WITH PAYPAL" then on the next page simply select the grey button that says "Pay with Credit or Debit Card" and you can checkout as a guest. No paypal account required!