Stained Glass Jokerr Poster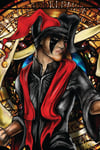 This 11X17 poster is a hand-drawn likeness of our favorite singing jester, Aithen of Cardith, in his choir robe. One can imagine The Jokerr singing heavenly hymns in an ancient cathedral as his voice echos through the vast hall!
NO PAYPAL - NO PROBLEM! At checkout just select "PAY WITH PAYPAL" then on the next page simply select the grey button that says "Pay with Credit or Debit Card" and you can checkout as a guest. No paypal account required!